From The President Desk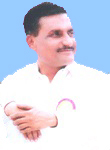 Rajaram D. Pangavhane (Patil)
Founder President ,NGSPM

Braham Valley Institute of Management (BVIM) is located in the outskirts of the town of Anjaneri. Campus is situated in the valley surrounded by hills and reflects the beauty of nature . At BVIM we strive to achieve our mission and attain our goals. BVIM has achieved strong growth and reputation in a very short time. We have students joining us from all over the state and beyond .Presently we have 240 students are all very enthusiastic. we have 240 students, an optimum number .The students are all very enthusiastic. We have a dynamic faculty to cater to their needs.

BVIM is preparing competent professional managers. The academic quality of the institute is the vital factor and creative learning is provided by experienced faculty.